Caorle, Italy, 7 October 2023 – Paravolley Europe Strategy Day outlined the next steps in the development of the sport here today on the sidelines of the 2023 Sitting Volleyball Men's & Women's European Championships starting Monday at this seaside resort town of Italy's Veneto Region, just east of Venice.
The introduction of a European Championship Division C for men and Division B for women was announced – a major project for the development of sitting volleyball in the next two years.
The first edition of the Men's C and Women's B Championships will be held in Stavanger, Norway, following a signing of contracts between the local organisers and PVE the previous evening.
Strategy Day also focused on Paravolley Europe Progression, after the approach was changed six years ago and PVE started being closer to teams and coaches.
"We ask you to be a part of the organization, we always ask for your opinion," said PVE President Branko Mihorko to the attendees. "Every year we have 15-16 competitions now. Commissioners come from different countries and with that we came closer to each country."
All board members should in the future be proposed by current members, it was announced. People who apply for a position in PVE should still be active in their own organizations within their own countries but should also be active on European level.
"This year we have reactivated Norway," President Mihorkoi elaborated. "Norway was once a very important part of paravolley in Europe and we are happy to welcome them back. The same goes for Greece."
It was also made known that a fully digitalised registration system for players is now operational within the PVE and digitalisation of the organisation has almost been completed.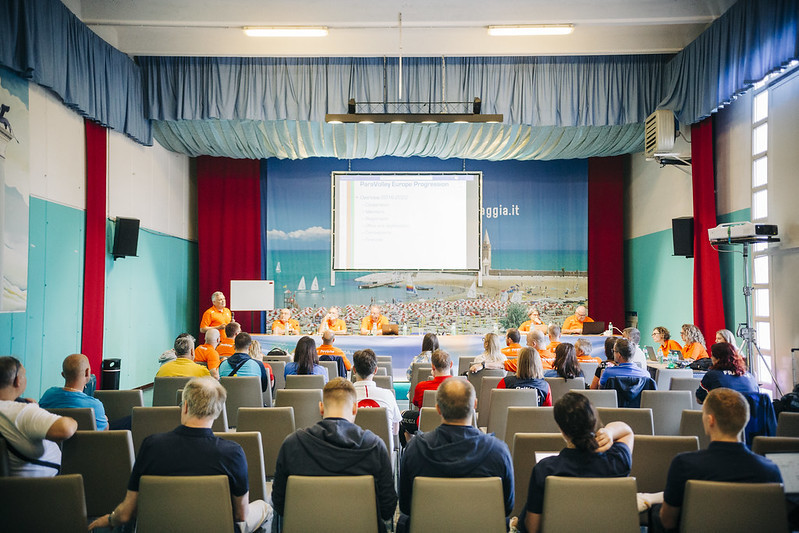 General view of the Strategy Day event at Caorle, Italy.
"Finances are stable enough for operational costs," said the organisation's President. "However, our goal is to have enough funds to support members and the development of the organisation."
A restructuring of the Nations Leagues was put forward. From 2024 teams will move up and down between groups based on the results from the previous year and not ranking points.
For example, the first team in the Silver League will go to the Golden League.
Another big issue facing Paravolley Europe was finding hosts for competitions. So countries should take turns organising events. If there are no hosts volunteering to organise a competition, there should be a drawing of lots to determine where this will be held, based on a rotational basis.
The matter of how to handle situations when teams don't show up for a competition was also discussed and the idea is to demote that team to a lesser league so motivation is provided for them to show up when they register for an event.
Club Competitions
Changes for club competition were also put forward, with a proposal to have only one event instead of two for women. The proposal rests on the attempt to try and increase the number of women's clubs with teams needing only one VS1 classified player.
For men's club competitions the two-tier setup will be maintained, with the Champions Cup and Euroleague. The Champions Cup features clubs from countries that actually have National Leagues. This is a novelty, with PVE restricting participation in the Champions Cup. Countries that don't have a league will not be able to take part anymore. Three VS1 players will be required per team in the Champions Cup.
Pool play with no more than four teams in each will be introduced for the Euroleague with competition running from Saturday morning until Sunday afternoon at the first two levels. For the Final Round there will be certain teams from different countries directly placed plus qualified teams from the group stages.
The winner of the Euroleague will automatically qualify for the Champions Cup. PVE is looking at starting the club competitions season very early – in January.
On the beach, there are two candidates in Europe for the European Championship, although the big discussion regarding beach sitting and beach standing still continues.
Other matters discussed at the Strategy Day were Europe's representation at the Youth Games and other International Paralympic Committee events, as well as setting up a communications network with the identification in each country of a person responsible for forwarding information to the PVE so this can then be shared with a wider audience.
The 2023 European Championships, featuring 12 men's and 10 women's teams, begin here on Monday morning at the Palazzetto dello Sport 'Valter Vicentini'.