Caorle, Italy, 7 October 2023 – With 19 nations in attendance and with quorum met, the 2023 Paravolley Europe General Assembly approved all motions set forward and elected or re-elected three members to the Board of Administration here Saturday evening, ahead of the 2023 Sitting Volleyball Men's & Women's European Championships which begin Monday morning in this resort town of Italy's Veneto Region, just east of Venice.
Guido Pasciari of Italy was elected Vice-President of PVE to replace Paul Harmsen of the Netherlands
Onut Hosnut of Türkiye was elected Marketing Director to replace Guido Pasciari
Zdravko Hranic was re-elected for the position of Sports Director which he has held for the last several years
All three ran unopposed and were elected unanimously.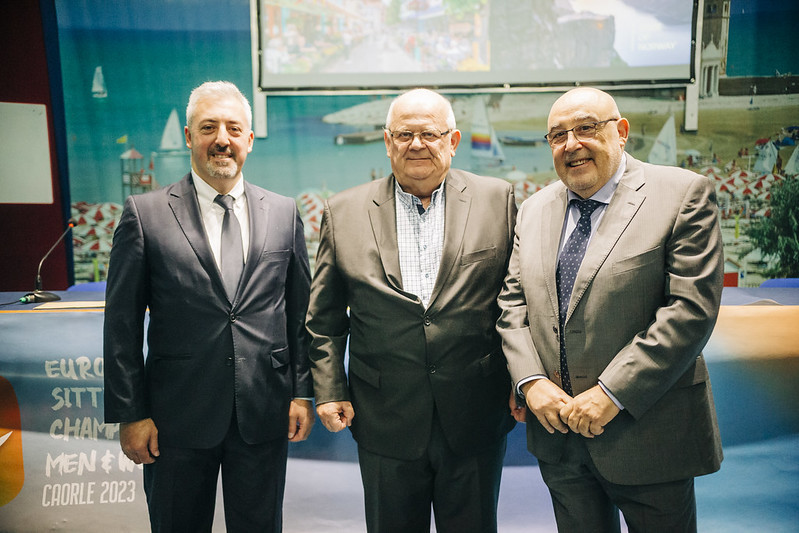 PVE President Branko Mihorko then presented outgoing Vice-President Paul Harmsen with a farewell gift, thanking him for his hard work over the years in promoting the sport.
With the agenda, the minutes of the last General Assembly, the 2021-22 Executive Board Report and the Financial Report all unanimously approved, matters turned some motions put forward to the attendees following the morning discussions at the Strategy Day.
The Assembly concluded with a presentation by the Norwegian delegation concerning the newly proposed formation of Men's Category C and Women's Category B European Championships, the first editions of which will be hosted in the city of Stavanger in 2025.
The 2023 European Championships, featuring 12 men's and 10 women's teams, begin here on Monday morning at the Palazzetto dello Sport 'Valter Vicentini'.